So, you have decided to brave it. You are going to do the unthinkable and travel with your baby. Good on you! There are good memories to be made when travelling with your baby (possibly many firsts while on the road too – FUN!)
Whether you are travelling for business, pleasure or other reasons, you will still need 'stuff' for the baby. We have made a handy checklist so you can easily plan your fabulous trip AND parent with more. 
Checklist for travelling with a baby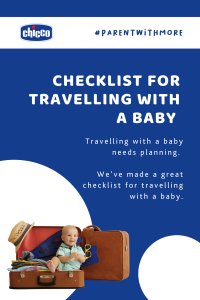 Travel accessories for babies
Car Seat
It is an obvious one but can sometimes be overlooked if travelling by plane or train. A safely fitted car seat for your child while travelling to your destination or once you arrive is a must-have. If you do not have one for when you arrive (and expect to be using a car while you are there), then look at hiring a safe car seat.
Pram or Stroller
Depending on your destination, you might need a pram suitable for rugged terrain and bumpy surfaces. Alternatively, a lightweight, collapsible stroller is more suited for aeroplane trips and urban locations. 
Baby Blanket
A blanket for your baby when travelling can be a great form of comfort from a chilly pram or car trip. A familiar one from home can serve as positive emotional comfort for bubs also. 
Baby Carrier
Make you pack a baby carrier. Not only is it useful for airports and train stations, but you and your baby will also get around town a lot easier at your destination. 
Nappy Bag
A well-stocked and accessible nappy bag to keep with you while travelling is a lifesaver. Make sure you include nappies, wipes and your preferred nappy rash creams. 
Feeding supplies for travelling with a baby
Breastfeeding and breast care
Babies don't know that it's holiday time, neither does their breastfeeding schedule. To keep you and bubs on track with your breastfeeding journey, make sure that you stock up on breast care essentials. For some added flexibility while you're in transit, a breast pump will also come in handy. 
Bottle feeding
If you need to give your baby a bottle while you're away, a steriliser is an essential item to pack. Along with formula, enough bottles, milk storage containers (that are compatible with your breast pumps), and a powder dispenser should be on the list too.  
Tip: Don't forget a bottle brush to clean the bottles and teats! If you go camping, stay in a small hotel or don't have access to a dishwasher, you'll still need to thoroughly wash the milk from the bottles. 
Solids
If your baby has started solids (or is ready to start) while on your trip, pack enough jars or pouches of food. You can also easily continue making fresh meals while on the road with an easy meal steam blender. All you need is the ingredients and a power outlet! 
Nappy supplies and clothing for babies
Nappies and wipes
Pack nappies – and lots of them! You never know where you will be when your little cherub has a blowout. It could be boarding an aeroplane, driving across the Nullarbor or running for the last train. While you can always restock from a shop, pack lots of nappies and wipes in case you get stuck in between purchases. 
Clothes for all weather
Remember to pack for warm and cool weather. There might be a warm spell or a cold snap where you are going, and you don't want bubs to get too hot or chilly. Suppose you're camping or holidaying at an outdoorsy location. In that case, some outdoor wet weather gear for the kids is also a good idea. 
Bath time and grooming for babies while travelling
Baby wash, shampoo and conditioner and moisturisers
Whether you jump in the shower with your baby, or if you've got a bathtub or basin to wash them while travelling, don't forget to pack their body wash, shampoo and conditioner. 
Personal items
Whilst we would typically use them to keep up appearances, using nail scissors on your baby can also help keep them safe. It's essential to keep your baby's nails short so they don't scratch themselves – even when travelling. 
Keep baby groomed when on the road by packing a brush and comb set, a fine-tooth comb if they have cradle cap, and a nasal aspirator if they get a bit sniffly. 
First aid and safety while travelling
First aid kit
Wherever you go with your precious cargo (the fam-bam), it's crucial to pack first aid supplies for those unexpected emergencies. A travel first aid kit will make a stressful situation easier to manage. 
Sleeping, soothing and relaxation
Portacot
It's good to pack a portacot (if your accommodation doesn't provide one) for travel with your baby. The great thing about portacots? They can also double as a safe playpen for the baby.
Tip: Before you travel, give your baby a few naps in the portacot, so they can get used to this new sleep environment. With any luck, they won't be too distressed when sleeping in it whilst you're away. 
Dummies
If your baby uses a soother, make sure you pack a few if they get lost in transit. A soother holder to help keep germs at bay would also come in handy.  
Wraps and sleepsuits
Packing familiar wraps and sleepsuits are a must if you want your baby to settle quickly. Plus, if it's cold where you're going, the babe will be comfortable and warm overnight. 
Portable nightlight
If you want your baby to settle while on vacay, consider packing a trusty night-time friend who can offer soothing light and a familiar face at bedtime. 
Toys 
Don't forget to pack a few of your baby's favourite toys. Not only are they great to play with in the car or on the plane, but toys are also handy for hotel rooms, pram trips and can pass the time if there are unexpected travel delays.
Other baby travel essentials
o Passports (if leaving the country)
o Sunscreen
o Swimmer nappies
o Camera
o International travel adapter (if you're heading OS)
o Portable potty (if you're at the potty-training stage)
o Portable safety gate
o Baby monitor
Preparation is key for travelling with babies
Regardless of it being a day trip or a long-haul flight, travelling with children (big and small) takes planning (and packing a suitcase like a Tetris grand champion). 
Wherever you go, and however you get there, Chicco wishes you and the family a happy travel experience. 
Team Chicco
#ParentWithMore