Soothers, dummies, pacifiers. Whatever you call them, they can be a great way to settle your baby. Especially at 3am. 
 Dummies are powerful tools. They calm, soothe, and settle. But, like Spiderman, with great power comes great responsibility. So they must be, however, used appropriately. This means choosing the suitable soother for your baby and learning about the risks and benefits of using one.
The Lowdown
Q: Can a dummy reduce the risk of Sudden Infant Death Syndrome (SIDS) in newborns and babies? 
 A: There is evidence that dummies are associated with a reduced risk* of SIDS when used consistently. 
  Q: Can a dummy help with colic?
 A: Yes, dummies can help soothe and provide comfort to a colicky baby. 
  Q: What is a natural sucking reflex?
 A: Newborn babies are born with several reflexes that help them through their first months of life. The sucking reflex happens when the roof of a baby's mouth is touched (breast, bottle, finger or soother), and the baby begins to suck.  
Fact: Every time your baby shows the sucking reflex, it doesn't necessarily mean that they're hungry. Sucking is a soothing activity for babies without food. 
Q. When should a baby give up a dummy?
A. While there is no perfect time to ditch the dummy, most children feel emotionally ready to stop between 2 – 5 years. Even though an orthodontic-shaped soother supports proper oral development, they need to be used correctly. Chicco recommends that soothers be used up until the age of 3 years. It's suggested that using a dummy beyond then can increase the chances of dental problems later. Plus, you want your child to be independent of the dummy at school-age.
Q. Is sucking on a dummy better than sucking on a thumb?
A thumb, fingers or a dummy are all ways that babies can self-soothe. Using a dummy is preferable over a thumb because you can take the dummy away to stop the habit, while thumb sucking can be much harder to halt. 
  Q. When can a baby start using a dummy?
A. From day one, babies can use a soother and are regularly given to preemie babies to help encourage the sucking reflex. If you're breastfeeding, some websites suggest waiting a few weeks until a feeding pattern is established and then introducing an orthodontic plus soother. If you're bottle-feeding, you could introduce an orthodontic plus soother from day one.
Choosing the right soother for your baby
There are many different types of dummies, and there are advantages and disadvantages to all of them. Experts suggest that the best way to find the right one is to look at all the different types of dummies and ensure that they comply with the Australian Standard AS 2432:2015.
The different types of dummies
There are four types of soothers:
Cherry/Round
Orthodontic
Orthodontic Plus
(PhysioForma)
BPA Free
∙
∙
∙
Available in silicone
∙
∙
∙
Available in latex
∙
∙
∙
Available in a one-piece design
∙
∙
∙
Safety ring handle
∙
∙
∙
Supports baby's natural sucking reflex
∙
∙
∙
Can reduce the risk of SIDS
∙
∙
∙
Prevents tooth misalignment
∙
∙
Supports jaw and palate development
∙
∙
Keeps tongue in its natural position
∙
∙
Maintains an open airway when in use
∙
Evenly distributes pressure across the palate
∙
Mimics the natural ridges of the palate
∙
Non-orthodontic (cherry/round) dummies are a traditional shape that allows the tongue to be positioned under the nipple during breastfeeding.
  Orthodontic dummies have two common shapes and are specifically designed to support the shape of a baby's developing palate and jaw. 
The symmetrical teat: a flatter teardrop shape and is the same all over.
Flat bottom: Flattened at the bottom with a round top.
  An Orthodontic Plus dummy has all the features of the flat bottom orthodontic soother (e.g., a natural sucking action with reduced pressure on the gums and developing teeth) while also helping your baby's physiological breathing. Its unique teat shape positions the baby's tongue forward to help maintain an open airway.

Fact: Chicco PhysioForma soothers are the only orthodontic plus soother available in Australia.
Exclusive to Chicco, the PhysioForma orthodontic plus soother focuses on correct oral development and keeping baby's airway open while sucking. This contributes to improved sleep and reduced irritability, and respiratory tract disorders.
Designed and made in Italy, PhysioForma was developed with a panel of leading neonatologists, paediatricians, and orthodontists. It also adheres to the standards set by the Australian Therapeutic Goods Administration and the Australian Competition and Consumer Commission.
Which soother do I give my baby?
A lot of parents have had trouble swapping the type of dummy their baby uses, as bubs is already used to soothing with a particular one. If you can, decide on which dummy you want to give your baby, and give it to them for the start.
Accepted by 9 out of 10 babies in clinical trials, the PhysioForma could be the perfect fit. This soother gives you and your baby the best of both worlds, with its unique orthodontic plus design that babies can quickly adapt to.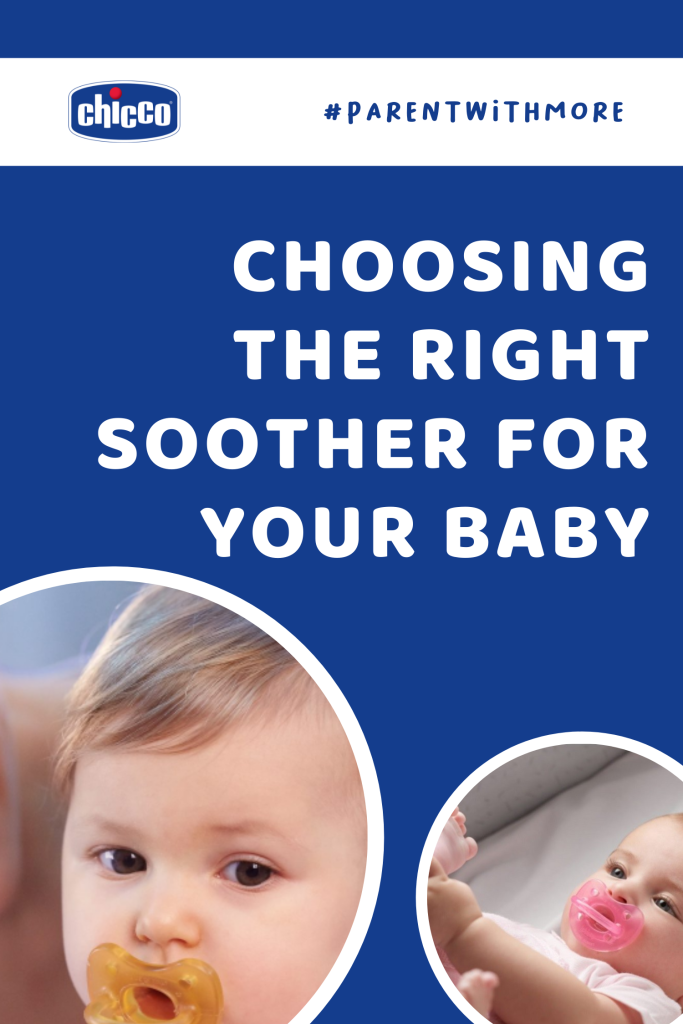 Above all, do what's right for you and your baby.
With so many baby products available nowadays, it can get all too confusing. Making an informed decision from trusted sources, whether friends and family, your local baby store or elsewhere online, is the way to go.
Just remember that from feeding, sleeping and soothing, to weaning, walking and playing, Chicco is here to help you #ParentWithMore.
Wishing you a smooth soothe.
Team Chicco
#ParentWithMore